READY TO GO
The PolyNome Public Library gives you access to many Presets and Playlists created by other PolyNome users. Get instant access to Practice routines, drum and percussion grooves, song count-ins and more!
KEEP TRACK OF YOUR PRACTICE
The Practice Log keeps a record of every preset you play, along with the tempo and duration. You can add daily log notes and view charts and reports about what you've worked on!
CREATE PLAYLISTS
Use playlists to group different presets together. Using "Play while auto advance" allows you to create seamless click tracks for songs with time signature and tempo changes.
SHARE PRESETS
Share presets with friends, practice routines with students, and set lists with band mates via AirDrop, email, messages or the Public Library.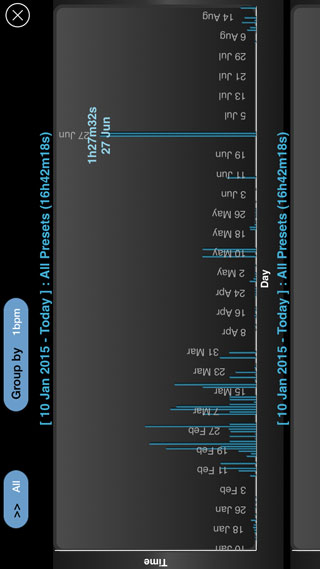 "Wow! Polynome is a brilliant tool for drummers and any musician! It allows you to understand precisely what subdivisions among bars of time feel like, teaches you the drum rudiments, and so much more. I love "time check" where it'll leave bars of silence in between bars of click to see if your groove stays in time. One of the best apps for your toolkit, right up there with a good tuner!"
"This is the ultimate! Totally usable by any musician, not just drummers.. brilliant! Thank you, thank you."
"It's beyond fantastic. I use it with a lot of my students to great results."
"I don't travel anywhere without it; unless I lose my phone!!"