SAVE YOUR WORK
Save your settings as named presets. Presets can be sorted by BPM, date last played, song length, and more...
KEEP TRACK OF YOUR PRACTICE
Intelligent Practice ™ logs every preset you play along with the tempo and duration. PolyNome can suggest the tempos you need to work on the most!
CREATE PLAYLISTS
Use playlists to group different presets together. Using "Play while auto advance" allows you to create seamless click tracks for songs with time signature and tempo changes.
SHARE PRESETS
Share presets with friends, practice routines with students, and set lists with band mates via email sharing.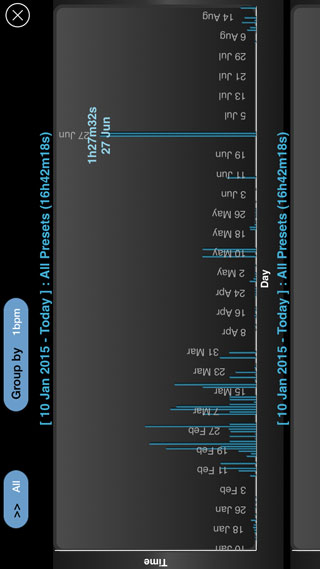 "This is the ultimate! Totally usable by any musician, not just drummers.. brilliant! Thank you, thank you."
"Polynome is great for teaching, practicing and rehearsing. Tempo input by way of the number pad is a terrific feature, and the subdivision possibilities are endless. Plus, this is the only metronome I've used that you can actually LEARN from. Simple and brilliant: simply brilliant."
"Wow! Polynome is a brilliant tool for drummers and any musician! It allows you to understand precisely what subdivisions among bars of time feel like, teaches you the drum rudiments, and so much more. I love "time check" where it'll leave bars of silence in between bars of click to see if your groove stays in time. One of the best apps for your toolkit, right up there with a good tuner!"